2
Dental Marketing ,

05 Dec
Dental infographics are one of the best ways to convey information.
Given that people respond to visuals, they simply love this type of content. In fact, you can create a similar infographic with the help of dental marketing consultants such as Dentie Leads.
We will create awesome content that will surely attract a lot of visitors to your website!
But before you give us a call, make sure to check the top 10 dental infographics you can find online:
Dental Care and Your Health
Like all medical conditions, you can protect yourself from most issues by being proactive. Unbeknownst to most people, dental health has a strong correlation with our general health. Some of these oral conditions can have a strong, adverse impact on our overall wellbeing, so it is advisable that you learn more about these issues. Among others, gum diseases can lead to problems with your lungs, heart; they can cause issues during pregnancy, lead to diabetes, etc.
Source: dentalplans
The Effects of Poor Dental Hygiene on Your Body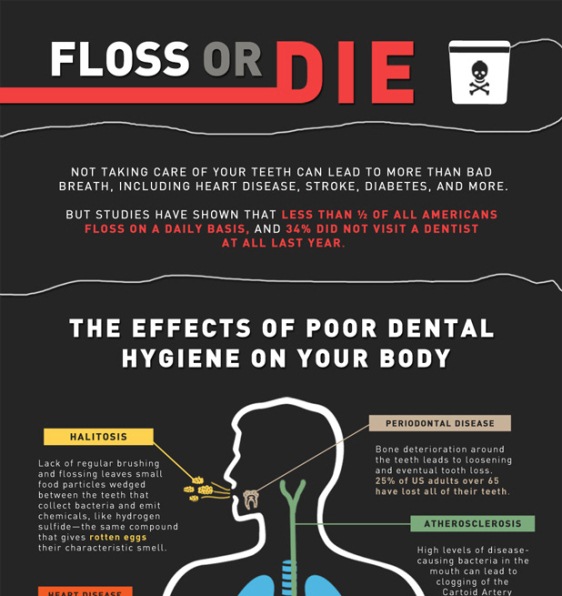 This is another infographic that analyzes the impact of dental health on our bodies. However, this particular infographic puts the most emphasis on flossing. Disregarding your teeth can lead to numerous issues such as stroke, diabetes, etc. According to data presented in this post, less than half of Americans flosses regularly. These numbers are even worse when it comes to dental visits. For example, one-third of US citizens haven't visited their dentist in the last year.
Source: yourlocalsecurity
The Horrible Effects of Bad Teeth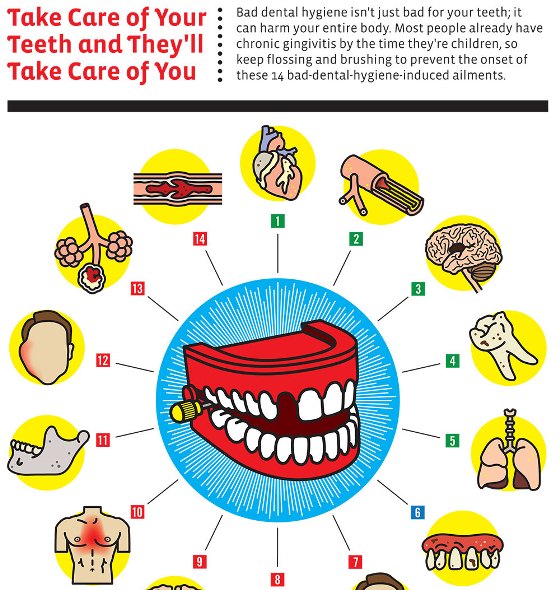 Here is another interesting infographic talking about the importance of dental hygiene. It has a distinctive visual appearance that allows you to digest information pretty easily. The white background is used pretty nicely, and the way everything points to teeth further emphasizes the importance of dental hygiene.
Source: medlineplus
The Ultimate Guide to Oral Health
While most dental practices prefer to talk about the importance of dental hygiene (and perhaps scare their patients into visiting), some dental offices go with a more educational approach. Such as the case with this particular infographic. In this particular case, the importance of toothbrush, toothpaste, and other items is explained. It talks about the chemical and biological processes that are occurring.
Source: greatist
Oral Health and Overall Health
Here is another infographic that talks about the importance of dental health for overall health. It relies heavily on statistics. For example, you can see that almost half of the adult Americans have some sort of issues with their gums. It also talks about substances which we should use and those that we need to avoid.
Source: 1dental
Why Dental Service Organizations are Here to Stay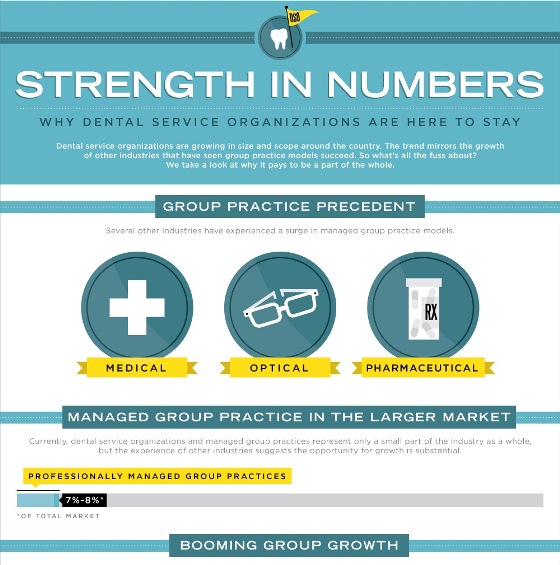 This is probably one of the most unique and intriguing dental infographics that you can find online. Unlike most other, it talks about industry trends and why dentists will have a good time in the future. It is great for dentists who are thinking about opening a new practice but still haven't summoned the courage to do so.
Source: dentalcarealliance
The High Costs of Life or Death Dental Care
Dental issues are often overlooked within our society. For example, most people don't fear dental conditions as they perceive it as something that can easily be fixed. Unfortunately, this led to a worrisome trend where patients are no longer proactive, but instead, they wait for the last moment to start a treatment. As a result, this leads to a big number of dental emergencies, and the trend shows no stopping!
Source: frugaldad
How Well Do We Take Care of America's Teeth?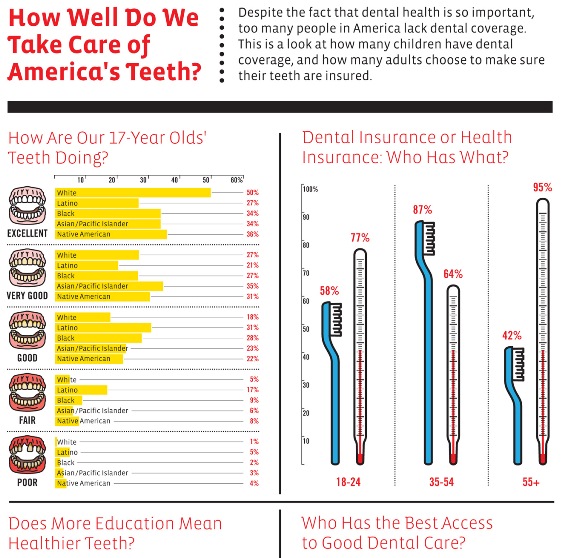 Dental insurance is a burning question in the States. Unfortunately, most people simply don't have enough data or are misinformed. With this infographic, that will no longer be the case. Here, you can learn more about US dental insurance, state of teeth based on demographics, and so on.
Source: centersfordiseasecontrol
Do Your Teeth Define Your Personality?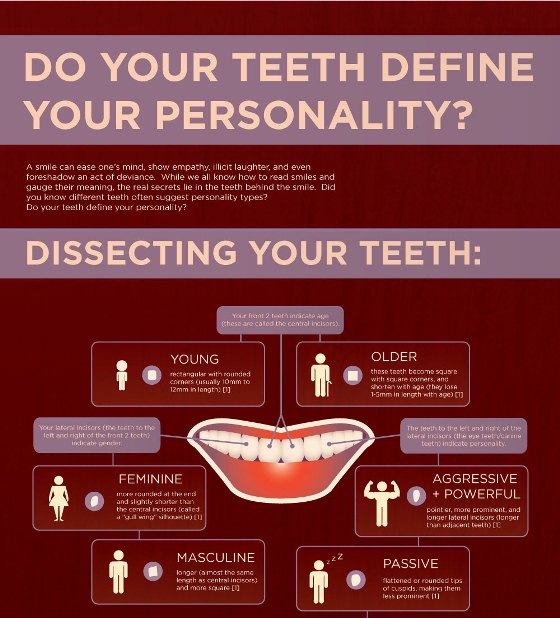 You can learn a lot about a person based on their teeth. Furthermore, teeth can be used for social interaction. This infographic is pretty wacky, but interesting nevertheless. It is something that would be a great read for anyone! It makes it even better than this is evergreen content and won't change over time.
Source: carrington
Kanye West and his Diamond Teeth Controversy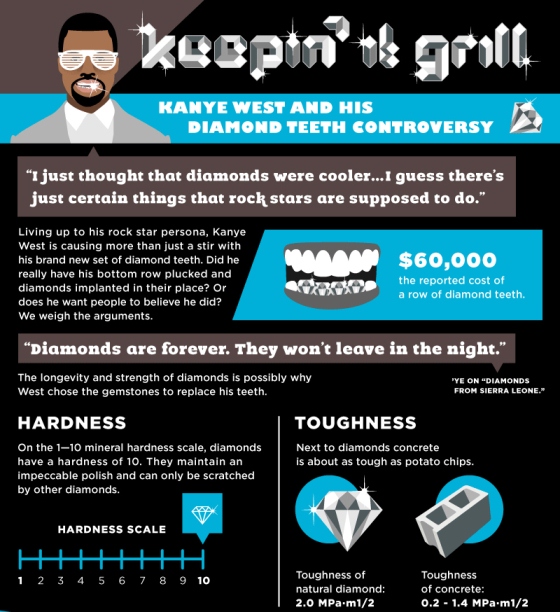 Kanye West has always been an intriguing person. One of the latest stories revolving around him was his diamond teeth controversy. According to sources, he had his bottom row removed, and he placed diamond teeth instead. Was this true? Read it to learn more!
Source: styleite